hearts_andminds
is a
Pan Fandom
role playing game that is based around a village called Haurvatat in a 'pocket dimension'. You character, which can come from almost any fandom, has been brought to the village. Some have to learn a lesson, others are given second chances or a new life, while others just want a vacation. Whatever the reason for your character to show up, they will be met with characters from all over space and time.
The community is friendly and active. We understand that real life happens and accept that slow-play is often necessary. If you need help, the community will be there to support you. There are over 30 fandoms represented in the village from Doctor Who, The Dresden Files, Resident Evil, Stargate, Supernatural, to lesser-known fandoms such as Spooks, Jeremiah, Band of Brothers, and Hercules.
Whoever your character is, they will be able to integrate into the village one way or the other! We're always accepting new characters and new people and new canons! Come check us out! Don't Miss Out!
We would love all characters from Stargate! We'd really like to see: Jacob Carter, General Hammond, Teyla, Fraiser, Ronon, Weir, Rodney, Zelenka, Keller, Beckett, Siler, Martouf, Ry'ac, Goa'uld!
(
More Info
Collapse
)
Stargate: Makeshift RPG
Stargate Command continues to be under threat by the Goa'uld, and still continue to explore other worlds in the name of research and exploration. We follow the various Stargate teams to see into their lives and their missions. We meet some familiar faces as well as some old and some new faces. One thing when being a part of the Stargate Program – anything is possible

Canon NB:
* Takes place at beginning of season 7 (702 'Homecoming')
* Atlantis project hasn't been founded yet



sgrpg_makeshift
x Profile x ooc community x Background x Rules x Apply x Characters x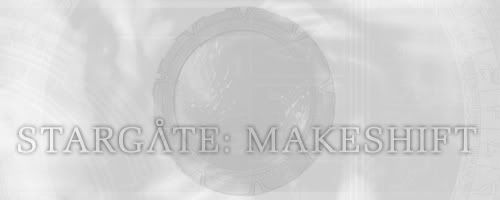 Stargate: Makeshift is a RPG for the SG-1 series, but isn't limited to the other Stargate franchises.
It takes place just after 'Homecoming' (702) where anything is possible for the Stargate Command. There's no limit to travel, however the Goa'uld is still a threat to Earth. Its up to the stargate teams to help protect life as we know it, and continue explorations to other planets.
For all the rules, characters and applications please head to
sgrpg_makeshift
THE LIFEBOAT: A PAN-FANDOM RPG
THE END
The earth is gone.

A year and a half ago you, and the rest of the world, learned that everything you thought you knew about the world, the galaxy and the universe . . . was wrong. We aren't alone in the universe and while all the aliens out there weren't out to get us, there were more than a few who were.

In the mass hysteria and martial law following the revelation, other information leaked out: the earth was under attack, the survival of humanity was at risk and the world powers had secret plans in place to save a remnant of the population and save humanity from certain extinction.

You were one of the few, either chosen by your rank and station or randomly via lottery, to go through the stargate, an advanced alien device that afforded nearly simultaneous transportation between worlds, to a lifeboat colony. There, alongside 7500 others, you would begin to rebuild human civilization.
THE BEGINNING
You are part of the remnant of earth's population, surviving and rebuilding at the lifeboat colony known as Gamma Site. Though earth is gone, there is a stargate at your disposal and thousands of unexplored worlds at your fingertips.
THE GAME
the_lifeboat is a post-apocalyptic multi-/pan-fandom game loosely based in the Stargate universe.
LINKS & OTHER IMPORTANT INFORMATION
Game Background
Other Details
Gamma Site
Taken Characters
Reserved Characters
the_lifeboatooc: Out of Character Community
lifeboat_xtras: Missing Scenes, Fan fiction, Chat Logs

Rules
FAQs
Application
Hiatus Request
Moderator Contact
Stargate Cliff's Notes
Email: thelifeboatmods@gmail.com
Don S. Davis died at 65. :( Here's the email that was sent out by his agent:

Dear Fans and Friends of Don S. Davis,

So many of you have been touched by not only the work and art of Don S. Davis, but by the man himself, who always took the time to be with you at the appearances he loved, that it is with a tremendous sense of loss I must share with you that Don passed away from a massive heart attack on Sunday morning, June 29th.

On behalf of his family and wife, Ruby, we thank you for your prayers and condolences. A family memorial where Don's ashes will be scattered in the ocean will take place in a few weeks, and should you wish to, please make a donation to the American Heart Association in Don's memory.

Link to announcement on Gateworld:
A story at Gateworld
.

f
For those of you trying to book a room at the TimeGate hotel, you may be or may not be aware that our hotel had some trouble with their registration system week before last. The internal problem got fixed earlier this past week, but we were still having trouble with on-line registration. Thanks to the assistance of Lukas at HI, that problem has now been solved as
well. So on-line registrations are working again! Which means that if you haven't booked your hotel room yet and still want to, you have until Tuesday, May 6 to do so, and you can either call the hotel or book on-line. Rooms are only $69 a night. Remember that the con runs from Friday, May 23rd to Monday, May 26th, 2008, at the Holiday Inn Select in Atlanta, GA.
Reservations can be done here:
http://timegatecon.org/hotel.htm
TimeGate VI: Regenerations is the Stargate and Doctor Who convention in Atlanta, GA, this May!
Current Mood:

excited
Today, April 30, is the last day in which to get your pre-registration memberships ($35 instead of $45 at the door) for TimeGate VI, a Doctor Who and Stargate convention to be held May 23 - 26, 2008 at the Holiday Inn Select in Atlanta, GA, USA.
Current Mood:

busy
the_lifeboat
starts on March 15, 2008.
(
Read more...
Collapse
)
A new panfandom/multifandom Stargate-based RPG is seeking new characters and players.


Thanks!
Question: Does anyone know if Stargate: The Ark of Truth or any of the other upcoming movies build on the events of the latter seasons of Stargate Atlantis? I'm a bit over halfway through season 3, and I absolutely hate spoilers (I even hate the "previously on Stargate" clips at the beginning of some shows, because it basically tells you that the Replicators or Kolya are going to be the enemies in this episode...) so I'd like to know if I should try and power through the series before the movies start coming out.


I'm not surprised that the "regular" wraith would be so much easier to find, but man, why is it so hard to find a decent pic of one of the soldiers?

Thankfully, I found a good one... on page 34. :)
I just did a search for "wraith atlantis" on Google Image Search, and there were only 3 unique pictures in 48 pages of results (18 pics per page) which depicted the wraith soldiers wearing those funky face masks.